Cannabis Packaging
Diamond offers a broad range of cannabis packaging options, manufactured with the most advanced printing and decorative capabilities in the industry.
Diamond's patent pending Lockbox™ folding cartons are an upscale, CR-certified packaging solution for medical or recreational marijuana products.
Diamond's CBD packaging is ideal for hemp-derived CBD (cannabidiol) products that contain less than 0.3% THC.
Marijuana Packaging
---
Medical or recreational marijuana products require Child Resistant (CR) packaging that meets the performance specifications outlined in 16 CFR 1700.15 - Poison prevention packaging standards. To qualify as "child resistant," a package must demonstrate that it is a) resistant to children, and b) accessible to senior adults.
Diamond Lockbox™
Beauty and Brawn
Diamond Lockbox™ folding cartons are an upscale, CR-certified packaging solution for medical or recreational marijuana products. They represent the ultimate in cannabis packaging design, combining both beauty and strength.
Our single and dual lock options feature finished edges and ample billboard space, and can be decorated with a wide range of printing and finishing effects.
Read the News Release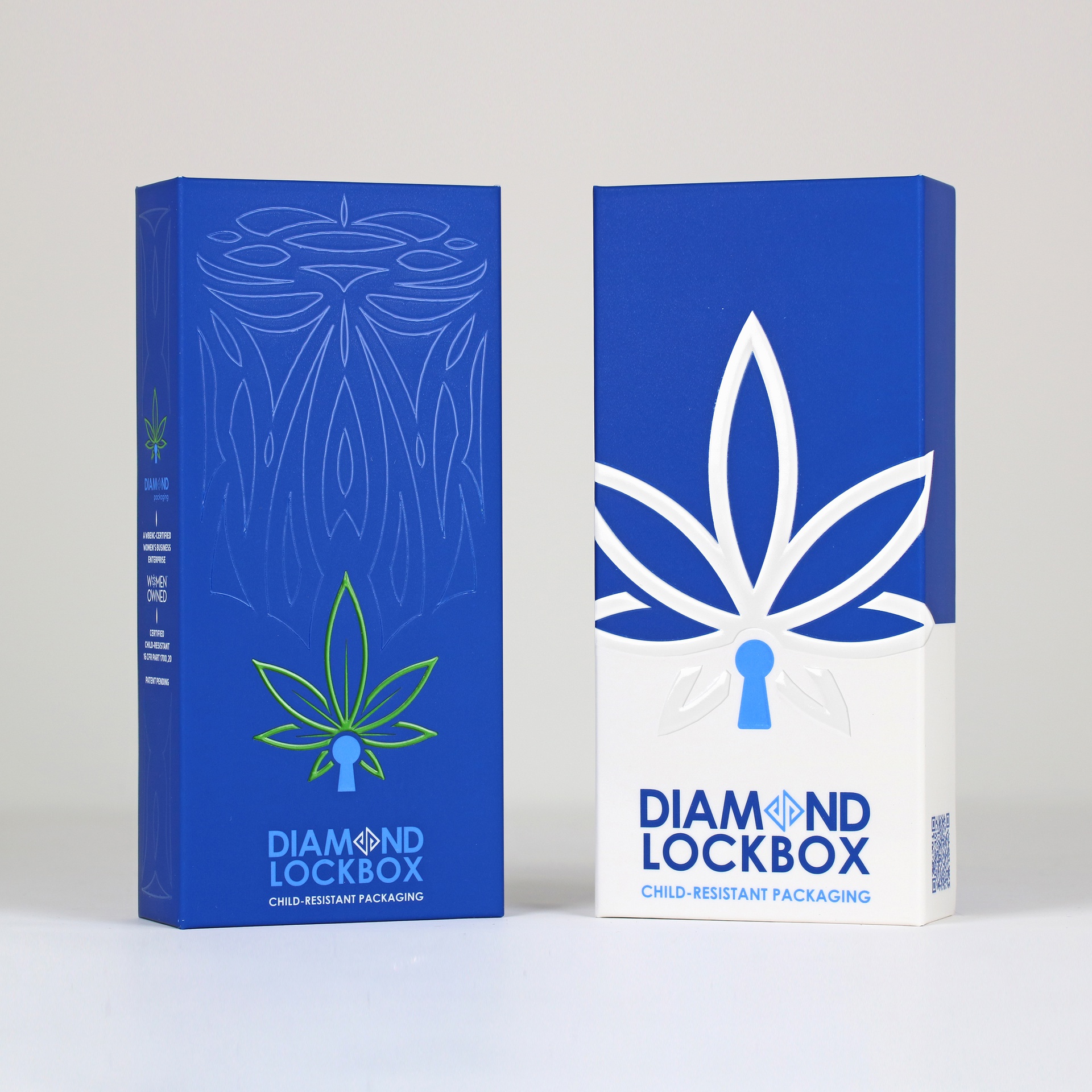 Certified Child-Resistant
Lockbox™ folding cartons are Certified Child-Resistant in compliance with the U.S. Consumer Product Safety Commission (CPSC) 16 CFR 1700.20 testing protocol.
Furthermore, all designs utilize laminated, tear-resistant paperboard outer cartons and paperboard inserts that can be customized to hold a wide range of products, including edibles, pre rolls, vape cartridges, vape pens, and concentrates.
Lockbox™ Features
Diamond Lockbox™ cannabis packaging features:
Discreet child-resistant (CR) release mechanisms

Recloseable designs maintain CR functionality
Clicking sound provides audible feedback
Customizable paperboard inserts
Ample billboard space for branding, messaging, or labeling
Compliance with state or local packaging regulations
Learn more
Lockbox™ CR-Certified Options
---
CBD Packaging
---
Diamond's cannabis packaging is ideal for hemp-derived CBD (cannabidiol) products that contain less than 0.3% THC. The designs incorporate many of the enhancements found in our other retail package designs, including:
SBS or specialty boards, including hemp fiber paperboard
Expanded color gamut (ECG) printing
Specialty coatings
Cold foiling
Foil stamping
Embossing
Die cutting
Green Chic™ is the New Black
Diamond's CBD packaging incorporates our Green Chic™ packaging model, which delivers "Beauty without Compromise" by capturing the essence of luxury or upscale cannabis brands through more sustainable converting methods.
Green Chic™ utilizes multiple in-line technologies – cold foiling, specialty coatings, Liquid Metal™ metallic UV coatings, and Cast and Cure holographic effects.
All paperboard folding cartons are manufactured with recyclable or recycled paperboard (many FSC-certified), using 100% clean, renewable wind energy, and produced in a Zero Waste to Landfill facility. Brands can communicate these benefits to consumers through on-product labeling.
Read the Case Study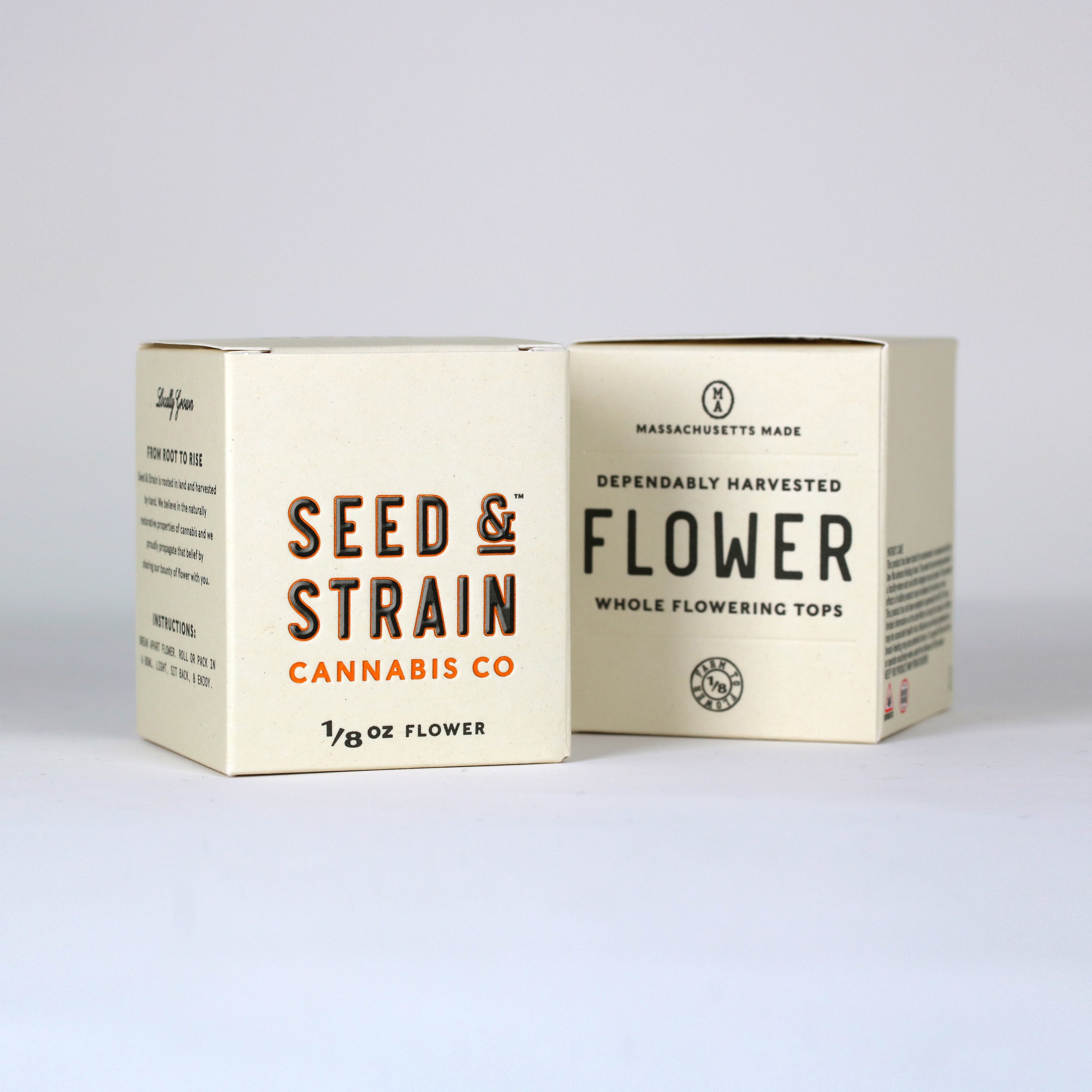 Tell Your Environmental Story
Through On-Product Labeling
Connect with with those that share your same values. Tell your story with environmental logos.
Our experienced and talented staff has the skills and expertise you can trust with your CBD brand. They successfully build the bridge between the creative design and the final product, ensuring that the package comes to life in the retail environment.
They will also advise you on the proper implementation of environmental or sustainability-related symbols and artwork, including:
Recyclable / Recycled logos
FSC label
Carton Made with Wind Energy logo
CBD Packaging a Natural Fit
Case Study
Truest Hemp products are physician formulated, laboratory tested, TCH-free, organic, non-GMO and made with only the highest quality 100% hemp extracts. TruestYou partnered with Diamond in creating packaging that captures the essence of the brand.
Diamond designed a packaging solution that conveyed the positioning of a high quality natural hemp product, but also reduced the need to inventory multiple cartons and insert styles.
Read the Case Study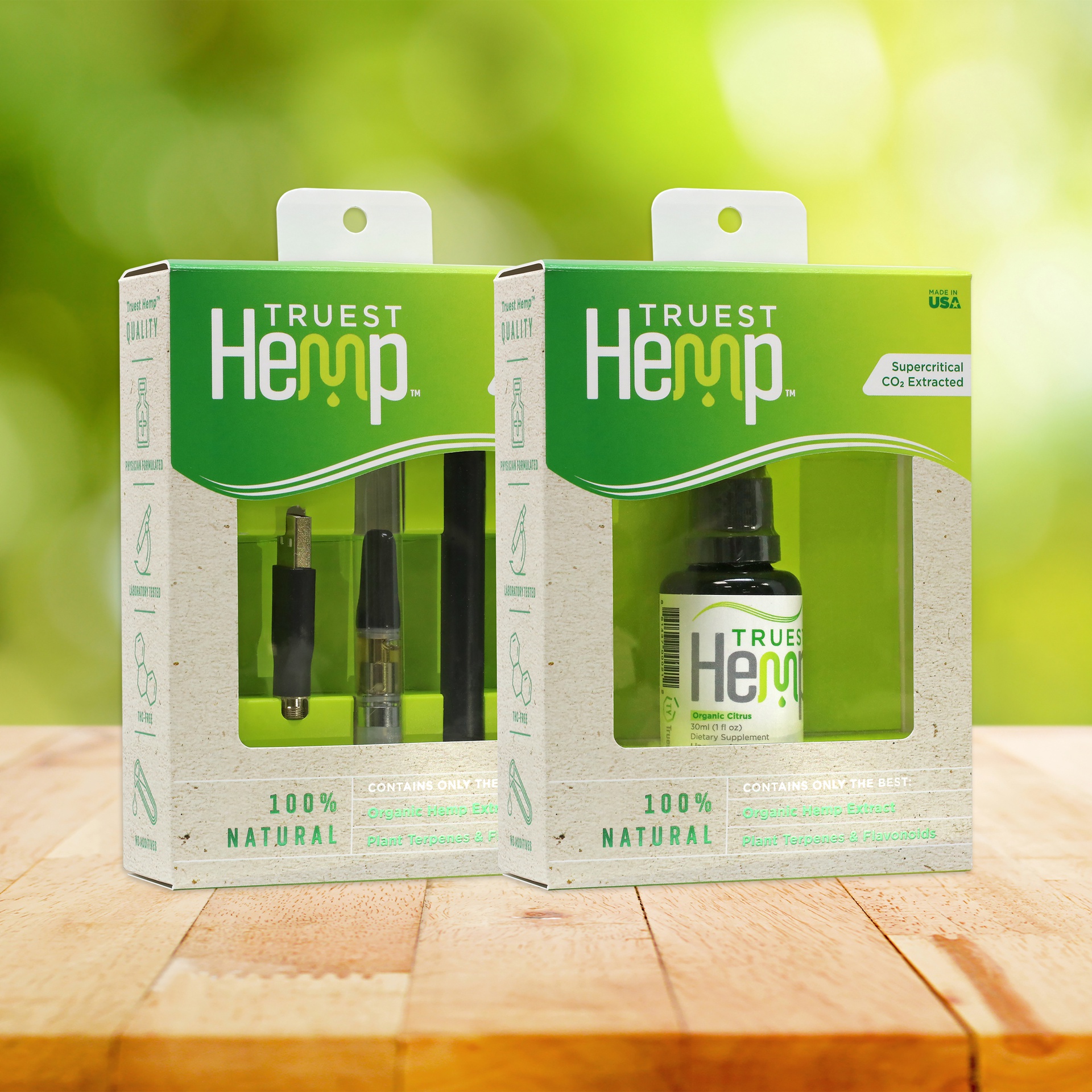 Contact Us
Contact us for more information or to request free Diamond Lockbox™ CR-certified or CBD cannabis packaging samples.
We'll help you transform your brand to win at retail or online. Whether through visual or tactile cues, the only limit is your imagination. Go ahead, let your imagination run wild!
Contact Us