Mar. 4, 2022
CBG Packaging Exudes Luxury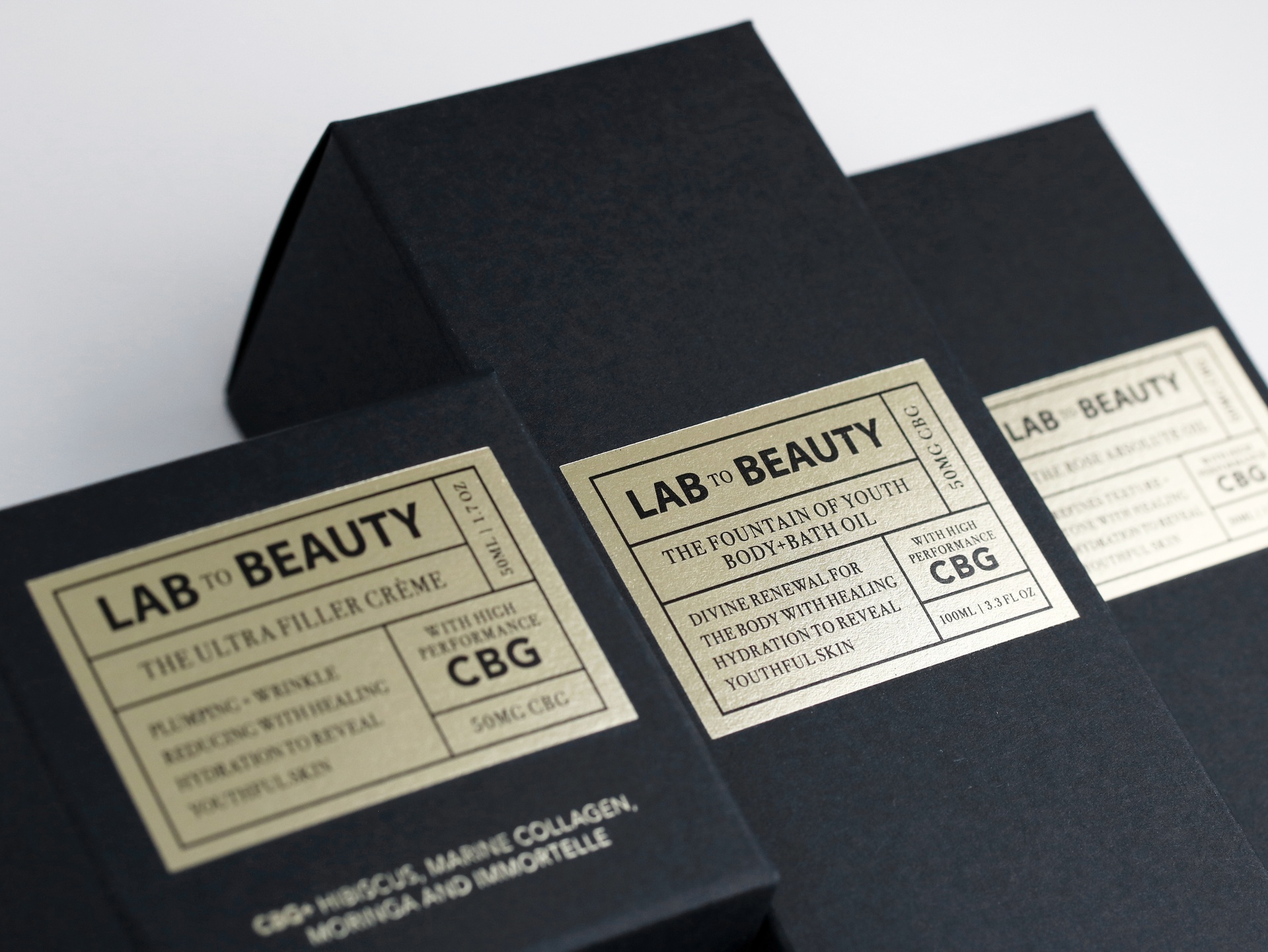 Blog
Lab to Beauty CBG Packaging
---
The Fountain of Youth Body + Bath Oil is the most divine anti-aging body + bath oil that helps refine your skin's texture and tone and increase elasticity. It is made with high-performance CBG (cannabigerol), a powerful cannabis-derived plant active.
Lab to Beauty, a luxury CBD + CBG brand dedicated to THC free, non-psychoactive, sustainably farmed and sourced products, partnered with Diamond to create sustainable packaging that conveys the premium positioning of a luxury skincare product.
The folding cartons were converted utilizing FSC-certified Neenah Folding Board Deep Black Vellum .018 paperboard, and offset printed with opaque white and process black inks, in-line with UV matte coating.
Neenah Folding Board Deep Black Vellum paperboard was chosen for its rich, luxurious appearance and a smooth, natural finish that provides a superior print surface for inks, foils, and embossing embellishments. The paperboard is manufactured with 30% post consumer recycled (PCR) fiber, FSC-certified, Green-e certified, and processed chlorine fee (PCF).
The graphic design incorporates a clean, minimalist look that exudes luxury.
Gold hot foil stamping on the front and rear panels lends sophistication to the packaging and provides a striking contrast to the matte black finish surrounding it. It also quickly communicates the product's ingredients and benefits.
The combination of color and textures beautifully complement the design of the primary container – a black tincture bottle with color-matching gold label.
The cartons were manufactured using 100% clean, renewable wind energy and produced in a Zero Waste to Landfill (ZWL) and Carbon Neutral (Scope 1 and Scope 2) facility. Conscientious consumers can look for the hot foil stamped FSC label on the rear panel to know they are supporting forest management that protects biodiversity and supports local communities.
The result is a striking presentation that creates visual interest and contributes to a satisfying unboxing experience.
Learn more about Diamond's cannabis packaging options.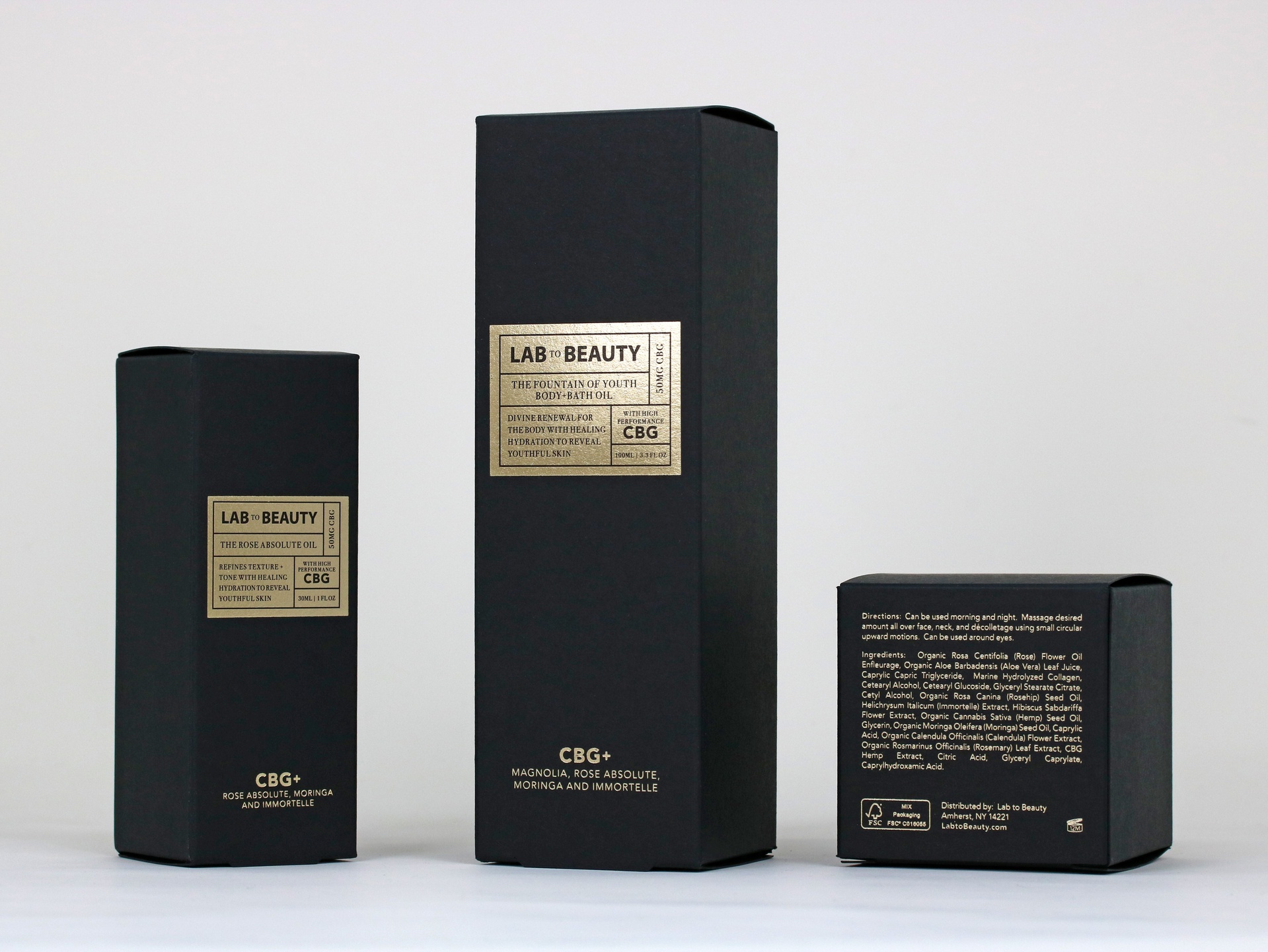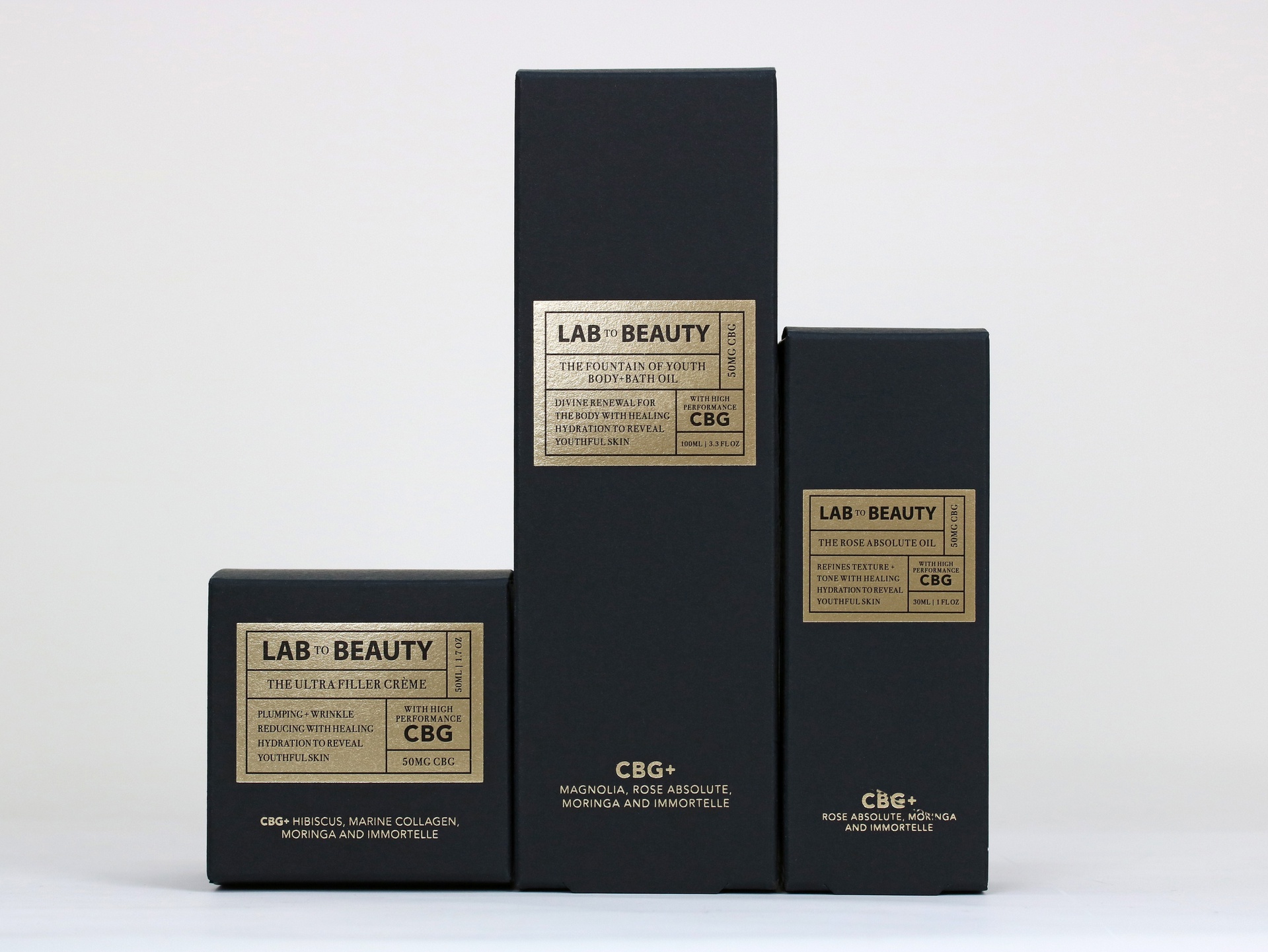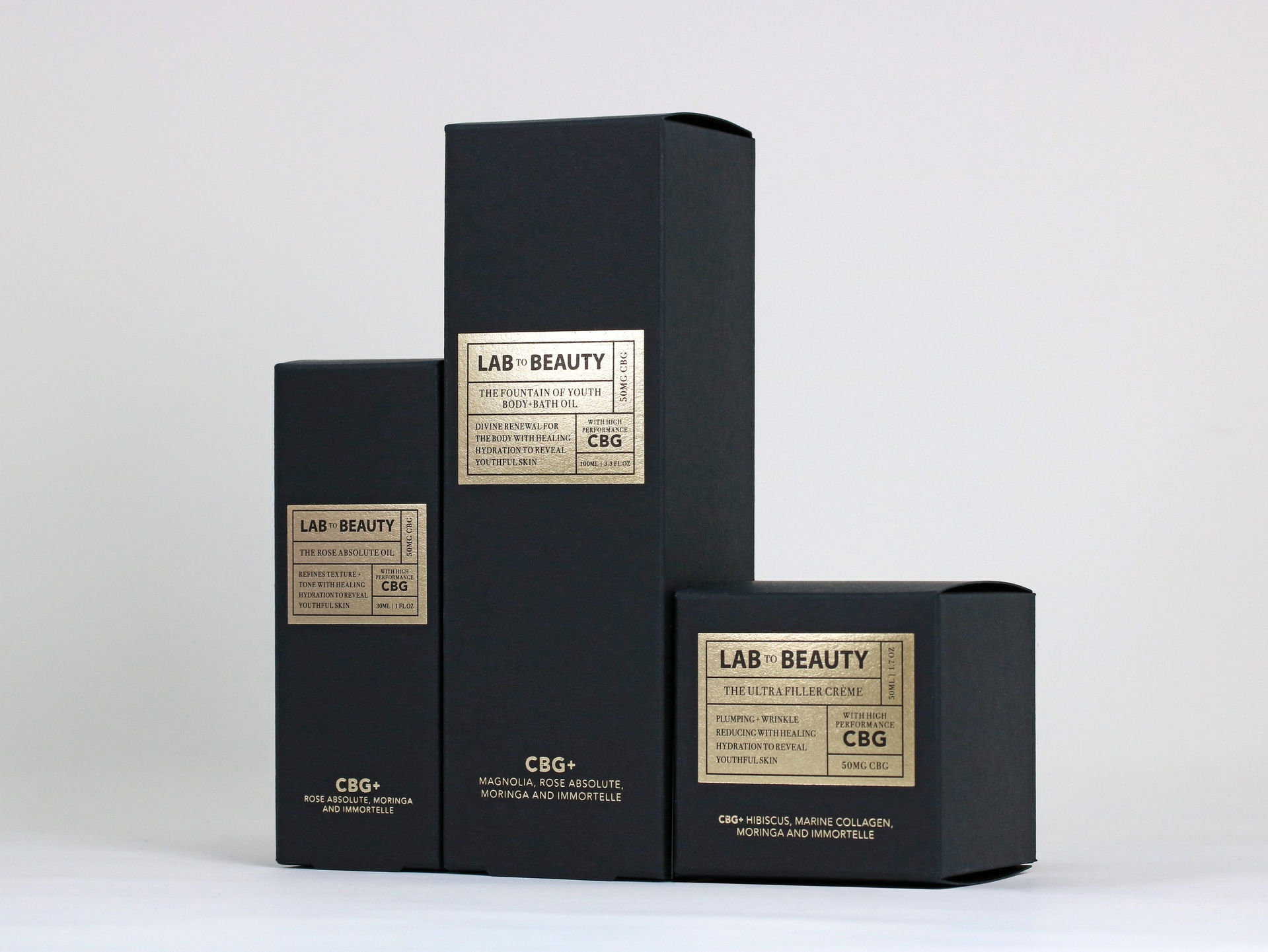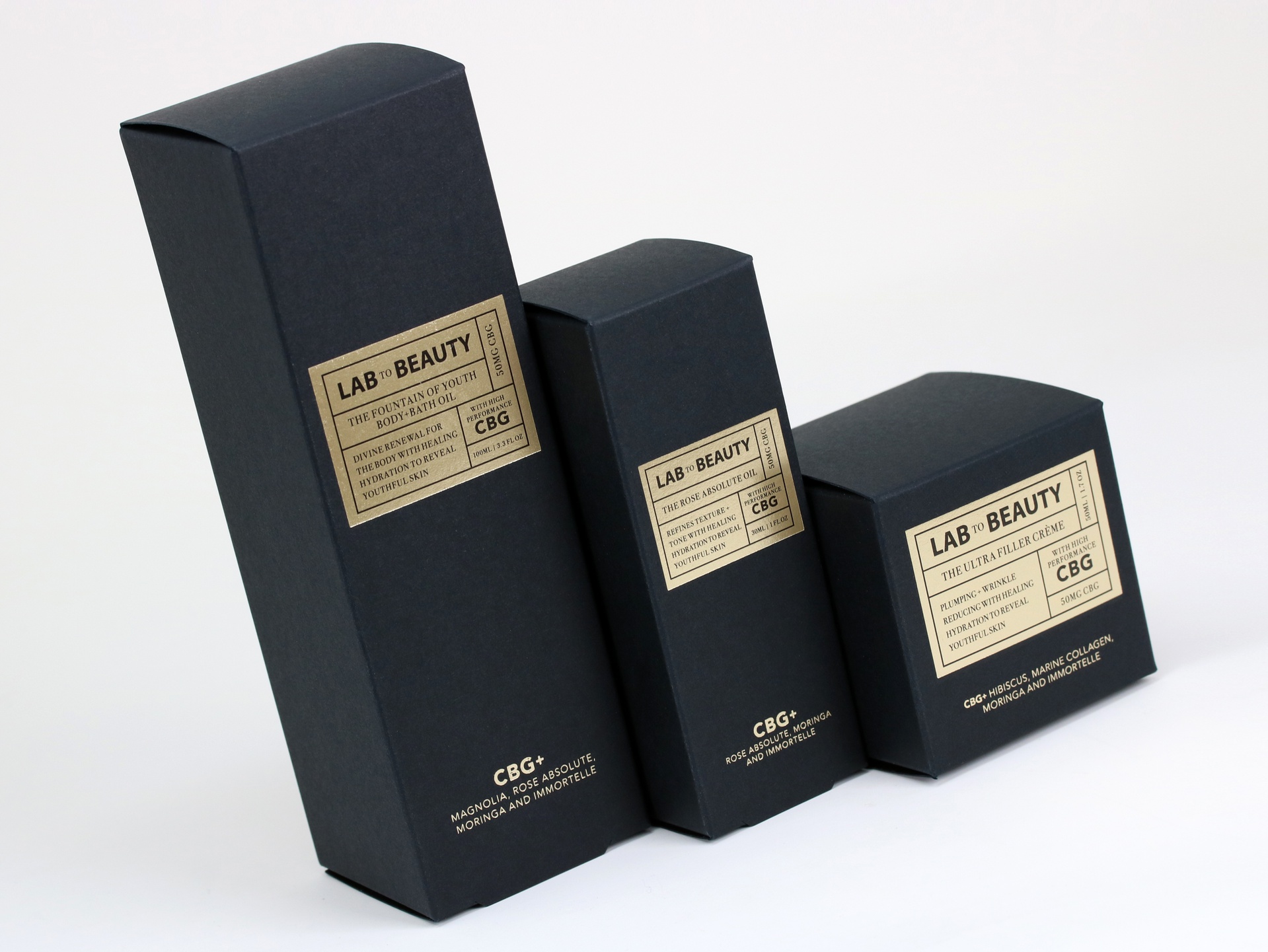 What's the Difference Between THC, CBD, CBG, and CBN?
---
Cannabis, also known as hemp or marijuana, has a long history of human use. But lately, the buzz around this plant — and the cannabinoids within it — has increased. Karli Miller-Hornick, co-founder and CEO of Head & Heal, a CBD producer and hemp cultivator in Cortland, NY offers a primer.
Watch the Video
Cannabis Packaging Sample Kit
Our cannabis folding carton sample kit includes examples of different substrates and decorative options, all designed to support the packaging design ideation process. We'll help you transform your brand to win at retail or online. Whether through visual or tactile cues, the only limit is your imagination. Go ahead, let your imagination run wild! Your brand deserves it.
Request a Sample Kit