State-of-the-Art Offset Printing
Diamond Packaging utilizes state-of-the-art Heidelberg UV offset printing presses to achieve outstanding graphic reproduction.




UV Offset Printing Presses
Diamond utilizes five (5) state-of-the-art offset printing presses to achieve outstanding graphic reproduction.
Diamond's 10-color Heidelberg Speedmaster XL 106 and 8-color XL105 offset printing presses represent the state-of-the-art in package printing technology, providing Diamond with an unprecedented combination of cost innovation and sustainability.
They offer the latest in decorative capabilities, including a Flexo coating unit upfront (to lay down Liquid Metal™ or MiraFoil® eco-friendly metallic coating effects or specialty coatings), a Compact Foilers cold foil module (to cost-effectively deliver in-line metallic or holographic effects), and a Dual flexo coating unit on the end to apply UV, aqueous, or specialty coatings — all in a single pass.
UV Inks
We print exclusively with UV inks and offer our proprietary Diamond TruCOLOR™ extended color gamut (ECG) technology. We also utilize a variety of standard and specialty UV coatings to protect and enhance your packaging.
UV printing inks are solventless inks which incorporate liquid photopolymers that release free radicals on exposure to large doses of ultra-violet light. The radicals cause the ends to polymerize into a dry resin, eliminating the need for drying time.

Learn More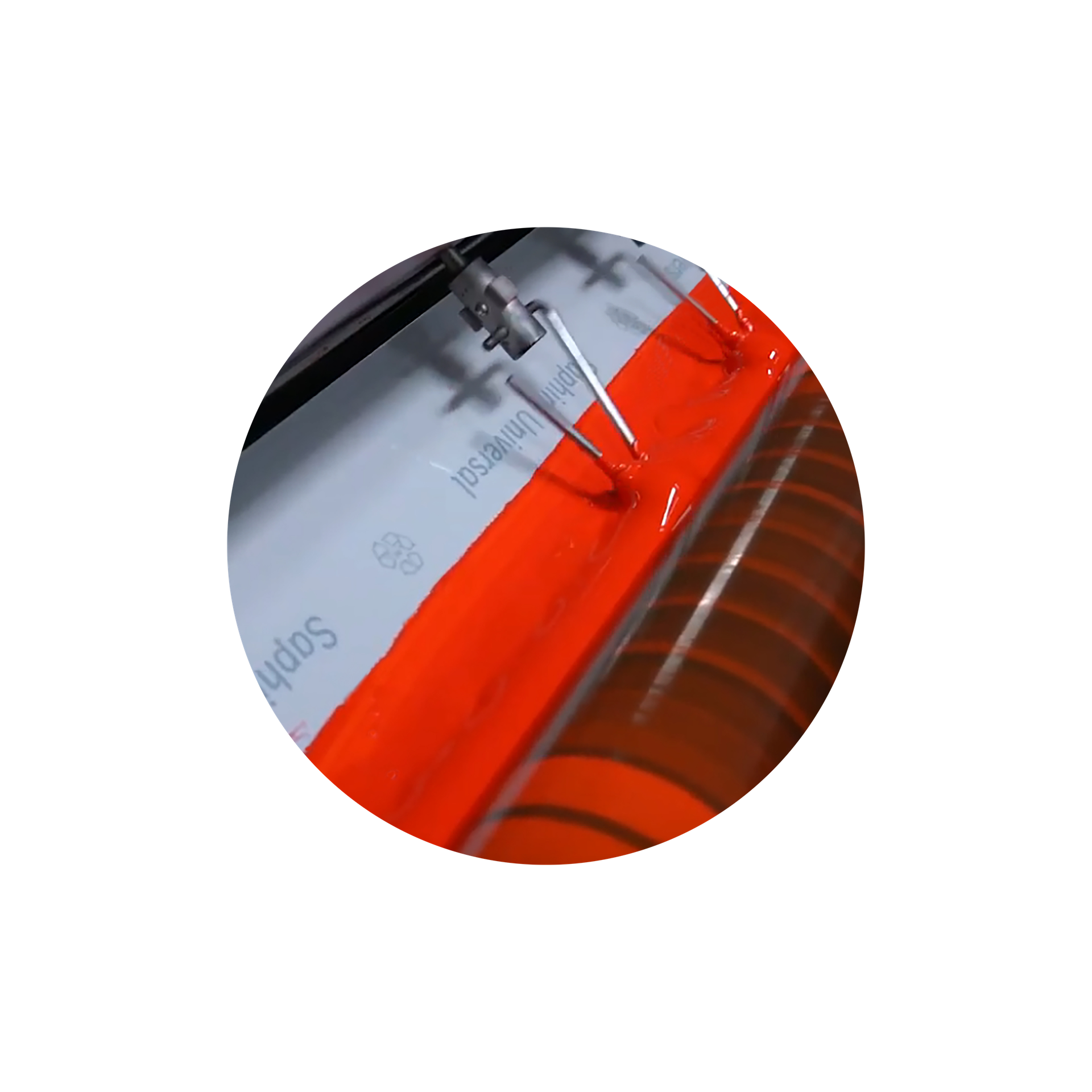 UV and Aqueous Coatings
UV coatings are cured, or dried, by exposing the coating to ultraviolet radiation. These coatings offer excellent gloss, chemical, and rub resistance.
Aqueous coatings are approximately 60% water and 40% solids. During the drying process, the liquids evaporate or are absorbed by the substrate, leaving the solids to form a thin film. Aqueous coatings are clear and odorless when dried, and are also available in FDA-approved formulations for use in food packaging.
Sustainability
Printing with UV inks and coatings results in minimal environmental impact:
Ultraviolet (UV) ink curing involves 100% solids
No solvents or VOCs (volatile organic compounds) are released into the atmosphere during the curing process
UV-cured materials are fully repulpable*
UV-cured materials are fully recyclable*
As a solid waste class, printed materials, with or without UV coating, are considered by the EPA to be in the non-hazardous materials class for landfill purposes. They pose no unsafe conditions to the environment as a solid waste.
*Source: Recyclability of UV and EB Printed and Coated Paper. Beloit Corporation. 1992.
Download the Study

Sample Kit
Contact us for more information on our capabilities or to request UV offset printed samples. The kit includes examples of different substrates and capabilities, including specialty UV coatings, cold foiling, foil stamping, embossing, and windowing. All are designed to attract the consumer's attention when and where it matters most—at the point of sale.
Contact Us