Dec. 20, 2022
Diamond Packaging Debuts its 2023 Surf's Up Calendar
---

"We're excited to present our coolest calendar yet," said Dennis Bacchetta, Diamond's director of marketing. "Our 2023 Surf's Up calendar pays tribute to surfing, a cultural phenomenon that brings together fun, sun, sand, surfboards, "woodie" station wagons, Volkswagen buses, and of course, surf music!"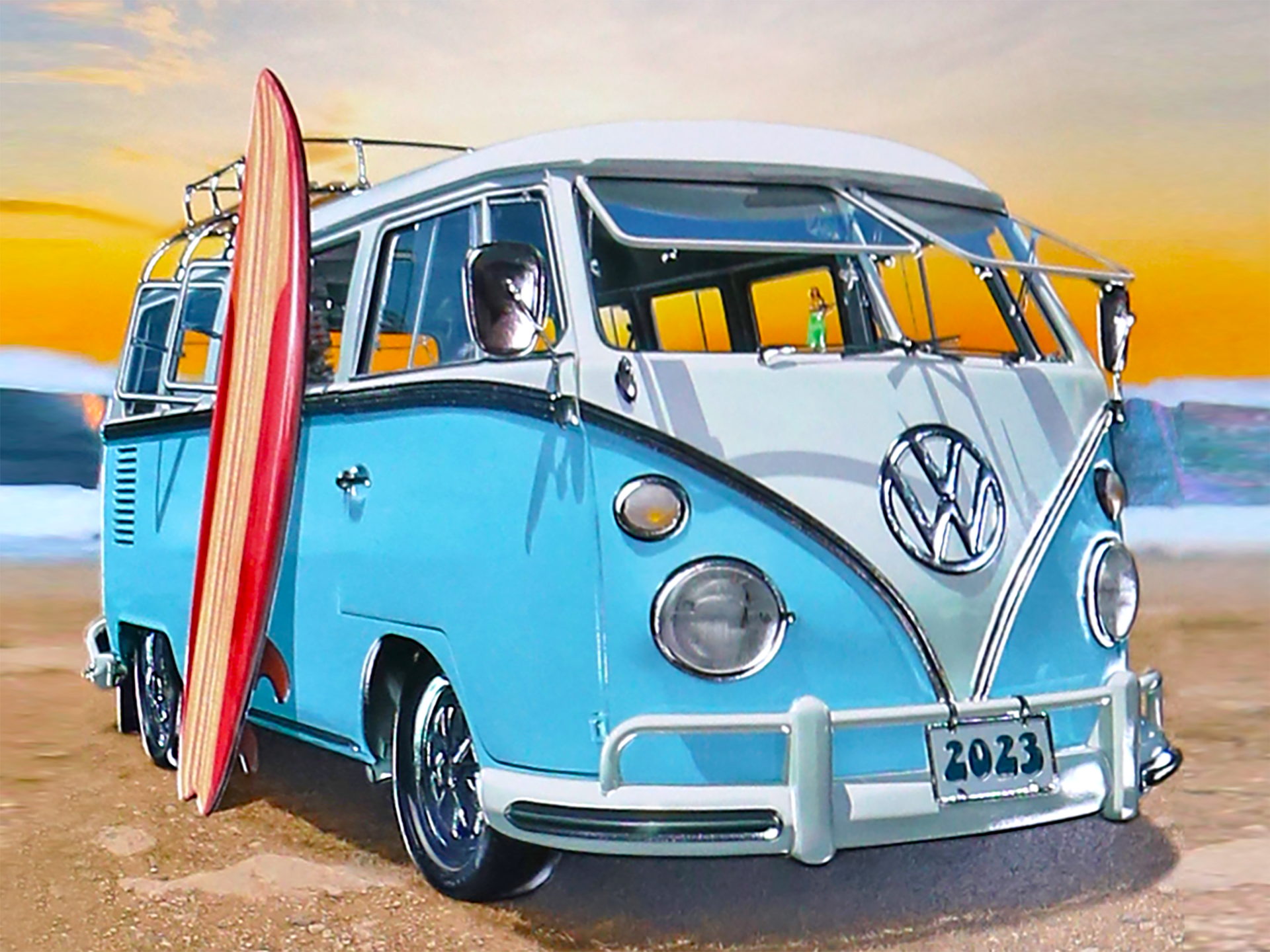 Press Release
---
Rochester, NY – Diamond Packaging today announced the debut of its 2023 corporate calendar, a popular promotional item given to customers and suppliers. The calendar features several decorative options, all designed to support the packaging design ideation process. It also showcases the type of decorative effects that can cost-effectively transform brands.
"We're excited to present our coolest calendar yet," said Dennis Bacchetta, director of marketing of Diamond Packaging. "Our 2023 Surf's Up calendar pays tribute to surfing, a cultural phenomenon that brings together fun, sun, sand, surfboards, "woodie" station wagons, Volkswagen buses, and of course, surf music!"
The result is another beautifully-decorated, ornamental piece. The structural design incorporates the shape of a vintage wooden fish surfboard. The header features a 1966 Volkswagen Type 2 Bus set against crashing waves and the California sunset.
The calendars were converted utilizing Clearwater ReMagine™ 30% PCW paperboard, cold foiled, and offset printed with four color process inks, in-line with UV matte, UV gloss, and DiamondTexture specialty coatings.
Tightly-registered coatings were used to enhance the design and highlight the individual calendar components. UV matte coating was used on the sky, small surfboard, and wooden fish surfboard. UV gloss coating was used on VW bus to add contrast. UV textured specialty coating was applied to the sand to create haptic feedback.
Cold foil delivers shimmering metallic effects on the VW bus and Surf's Up 2023 and Diamond Packaging text. A holographic "wave pattern" cold foil adds more realism to the water.
Multi-level embossing lends distinction and depth to the design. Many of the header components were embossed, including the VW bus, surfboard, and text. The woodgrain of the vintage fish surfboard backer components were also embossed to add more depth and realism.
The calendar pages were converted utilizing Domtar Cougar Smooth 80# Text paper and offset printed with four color process inks and UV matte coating. The watermarks of different surf scenes takes you away to your favorite beach. The unique finish and subtle colors beautifully complement the design concept.
The recyclable shipper was converted utilizing Clearwater Candesce® SBS paperboard laminated to E-flute corrugated fiberboard, and offset printed with four color process inks, in-line with and aqueous gloss coating. It is artfully decorated with a scene of crashing waves.
The calendar header and backer components were converted utilizing Clearwater ReMagine™ paperboard made with 30% post-consumer recycled (PCR) fiber and manufactured using 100% clean, renewable wind energy in a Zero Waste to Landfill (ZWL) and Carbon Neutral (Scope 1 and Scope 2) facility.
About Diamond Packaging
Founded in 1911, Diamond Packaging is a WBENC-certified woman-owned business specializing in developing innovative and sustainable packaging solutions. Utilizing state of-the-art technologies, Diamond designs and manufactures folding cartons for the personal care (cosmetics, hair care, skin care, fragrance, oral care, and shaving), health care, pharmaceutical, cannabis, and consumer electronics industries. Its client portfolio includes Bausch + Lomb, Coty, Charlotte's Web, Columbia Care, Kendo, L'Oréal, Otter Products, Procter & Gamble, Revlon, Shiseido, and many other leading consumer packaged goods (CPG) companies. Diamond differentiates itself through award-winning creative design, packaging innovation/technical expertise, and its greenbox sustainability initiative. For more information visit www.diamondpackaging.com, or follow Diamond on Facebook, Twitter, Instagram, and LinkedIn.
For more information on the 2023 calendar visit https://bit.ly/3tQhhQu.