Metallic Coatings
---
Diamond's Liquid Metal™ and MiraFoil® specialty UV coating delivers brilliant metallic effects through a combination of flexo and offset printing with no expensive set-up costs
Environmentally-Friendly
Liquid Metal™ and MiraFoil® metallic UV coatings are key components of Diamond's Green Chic™ packaging model, which delivers "Beauty without Compromise" through the use of more sustainable converting methods.
Liquid Metal™ Metallic UV Coating
Diamond's Liquid Metal™ specialty UV coating delivers brilliant metallic effects through a combination of flexo and offset printing with no expensive set-up costs. It is a more sustainable, in-line alternative to metallized substrates and foil stamping.
Read the Case Study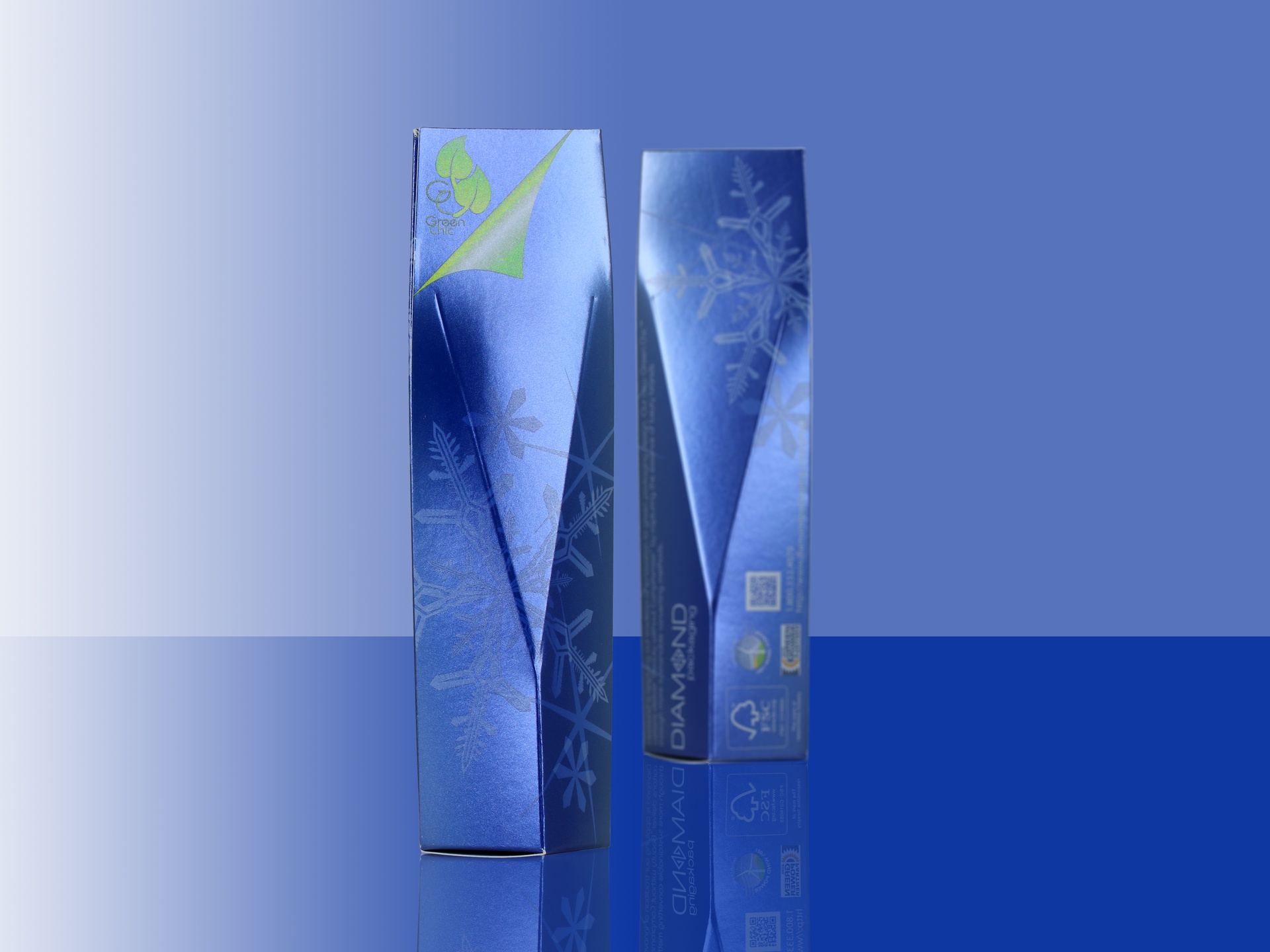 MiraFoil
MiraFoil® specialty metallic UV coating delivers "Foil on demand at print speed". It is an economical, in-line alternative to film and foil laminates that creates beautiful satin metallic effects.
Read the Case Study
Sustainable Benefits
Liquid Metal™ and MiraFoil® enhance the printed surface while providing more sustainable benefits:
Economical, in-line alternative to film and foil laminates, which are difficult to recycle at best

Eliminates issues associated with off-line lamination or foil stamping, including additional transportation, warehousing, and lead times

Environmentally friendly:

Reduces converting steps, thus saving time, minimizing costs, and conserving energy.
Coatings are fully recyclable* through the de-inking process, a commercially-used technology.
Metallic effects can be spot applied. As a result, most printing process waste (e.g., trim, make ready) is easily recycled into bleached paperboard, which is a significant advantage over laminates.
*Source: Recyclability of UV and EB Printed and Coated Paper. Beloit Corporation. 1992.

Sample Kit
Capture the essence of luxury for your brand through the use of Liquid Metal™ or Mirafoil™ metallic coating.
Contact us for more details or to request free packaging samples.
Contact Us