Elizabeth Arden
Sunflowers Limited Edition
Packaging Challenges
Sunflowers is a bright, light-hearted fragrance is a celebration of summer's simplicity and joy, one that opens with sparkling fresh fruits that gradually unfold into rich florals at full bloom.
Elizabeth Arden turned to Diamond for new carton graphics and finishing techniques for a limited edition version of the iconic brand.
One of the challenges with this print job was maintaining very subtle shade differences between the yellow used for the background and the yellow used for the flower on the uncoated Neenah Paper stock. Also, the design required extremely tight registration of the embossed and debossed areas.
Packaging Solutions
Diamond created packaging that imparts unusual depth and distinction through creative design, material selection, UV matte and gloss spot coating, embossing, and debossing.
The French reverse tuck carton incorporates a friction lock top and a slit lock bottom closure. This style has a finished look and also enables considerable latitude in graphic design.

The standard edition was primarily printed in a golden yellow hue, with a white sunflower graphic. The new, limited edition carton employs a mostly white background, with a stylized sunflower depicted in yellow on the front and back, with a deeper yellow shade used for the side panels.
The carton was converted utilizing Neenah Paper Royal Sundance® Ultra White Felt textured paperboard and offset printed with three PMS colors and dense black inks, in-line with UV matte and UV gloss spot coating.
UV matte coating contributes to the natural aesthetic of the Sunflowers carton and provides a striking contrast to the UV gloss spot coating used on the front panel text and sunflower graphic.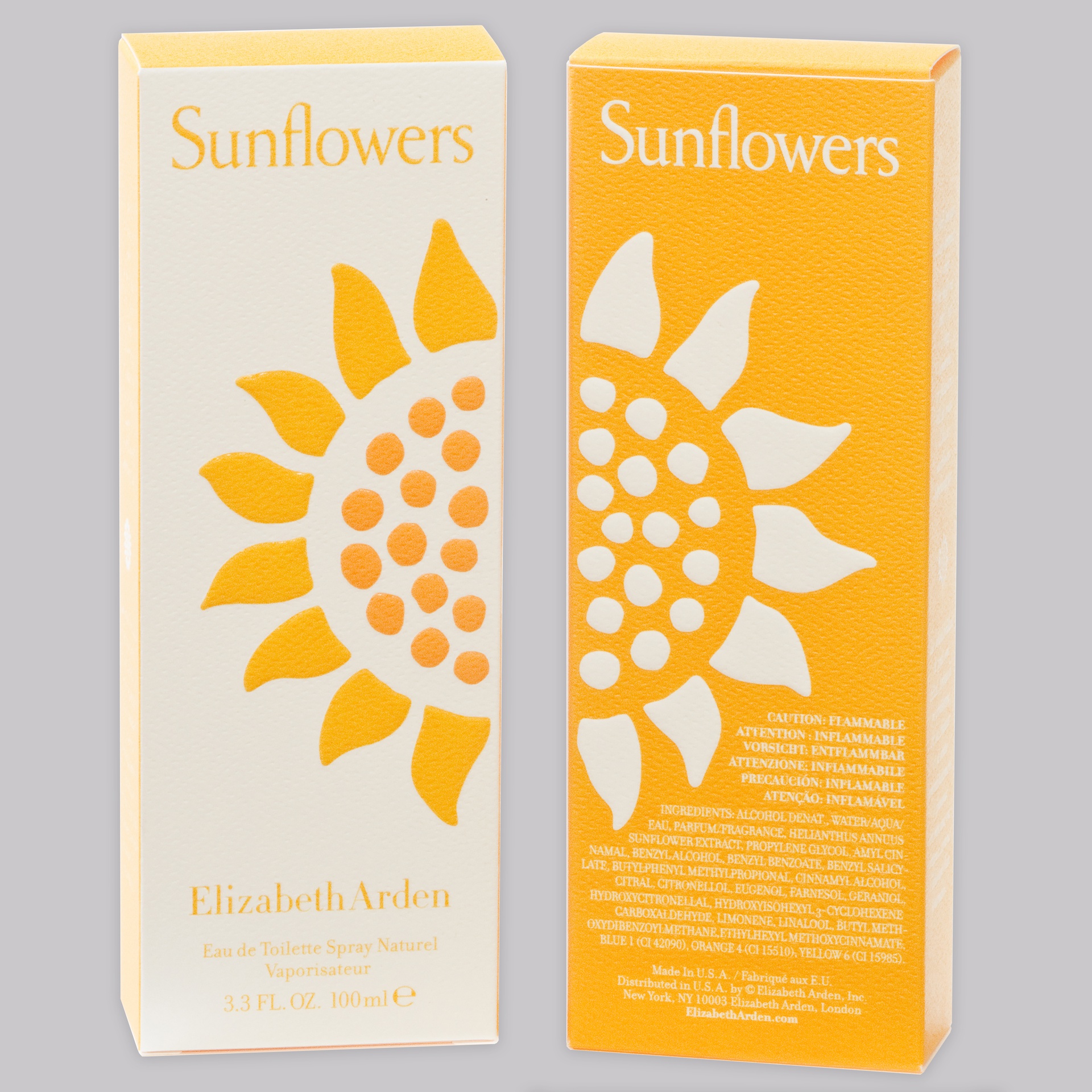 The graphics were enhanced with embossed sunflower petals on the front and rear panels, and debossed text on the side panels
Tight color control was maintained by using closed loop scanning spectrophotometry.
Production layouts were optimized to best support the registration requirements.

The result is a strikingly visual and tactile presentation that stands out in the crowded retail environment.
The package won numerous awards, including Folding Carton of the Year, in the 70th Annual North American Paperboard Packaging Competition, the industry's premier showcase for all that is new and outstanding in paperboard packaging design and technology.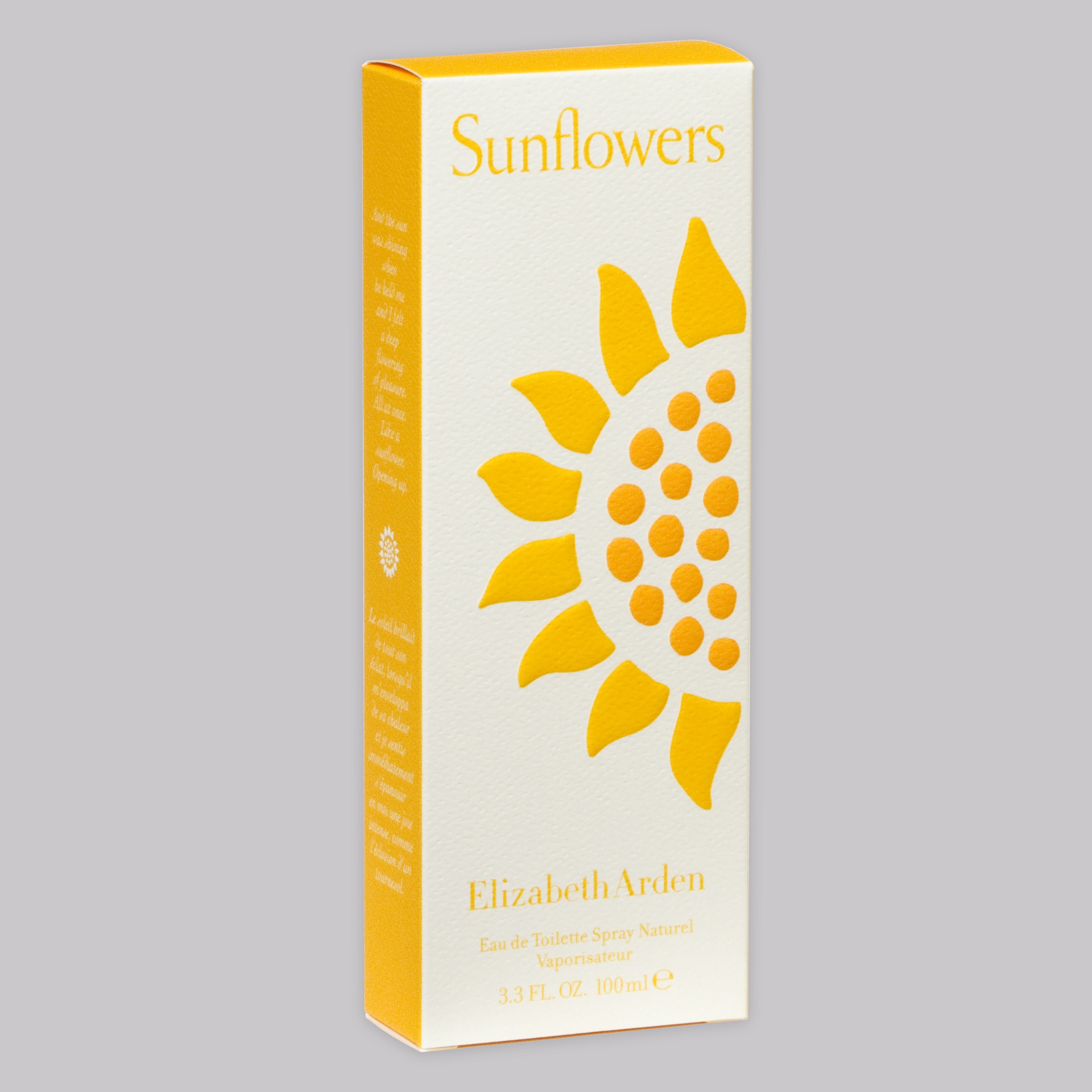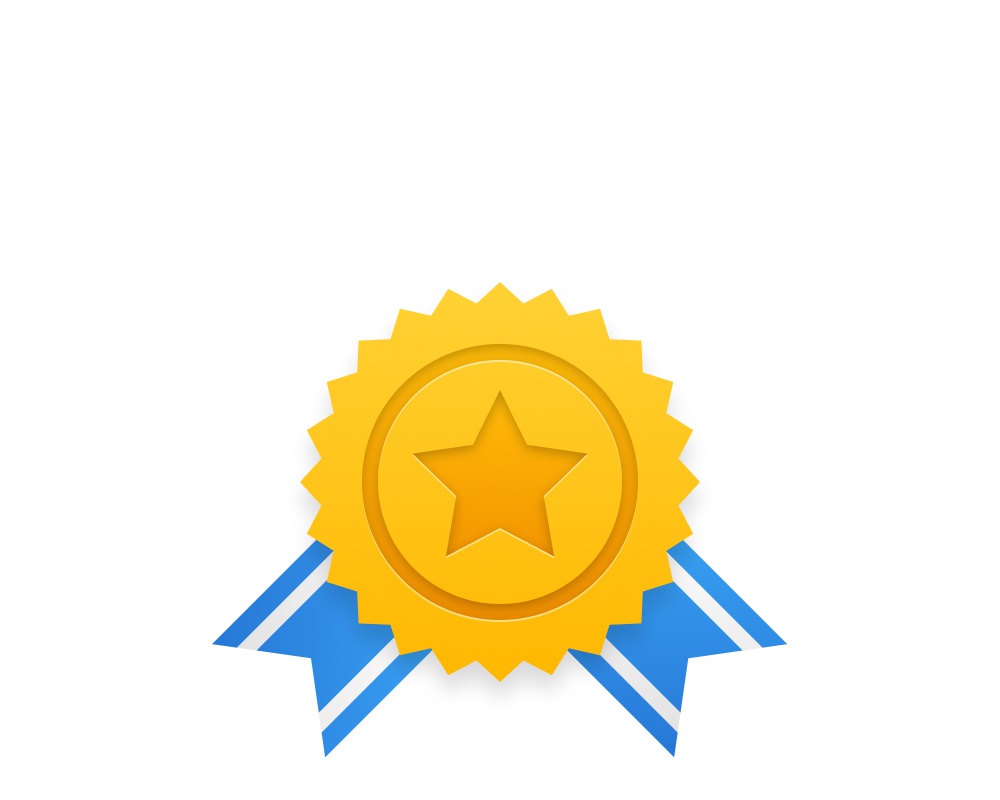 Packaging Award Winner
PPC - Folding Carton of the Year
2013
Cosmetics
FSEA - Silver Leaf Award
2013
Difficult Application on a Folding Carton
Package Printing - Excellence Award (First Place)
2013
Folding Cartons - Offset