Jan. 4, 2021
Diamond Packaging Debuts its 2021 Susan B. Anthony Corporate Calendar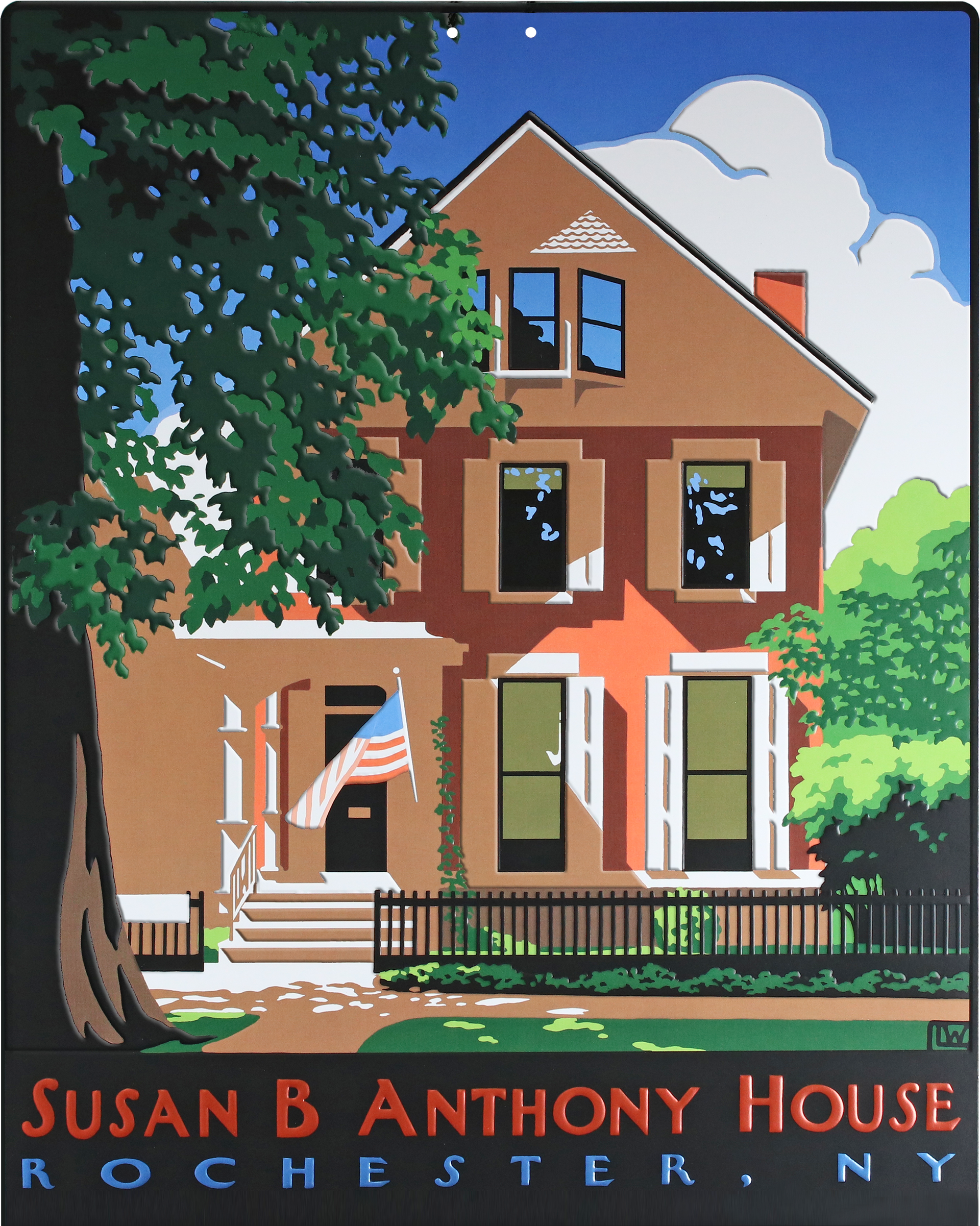 Press Release
---
Rochester, NY – Diamond Packaging today announced the debut of its 2021 corporate calendar, a popular promotional item given to customers and suppliers. The calendar showcases many of Diamond's capabilities, including multi-color UV printing, cold foiling, UV gloss spot coating, multi-level embossing, and debossing.
The 2021 calendar pays tribute to Susan B. Anthony, a Rochesterian leading social reform, women's suffrage, and the abolitionist movement. More than one hundred years later, she still embodies and exemplifies the courage, leadership, and inspiration we need as we face today's challenges and uncertainties.
The header features an image of the Susan B. Anthony House on 17 Madison Street in Rochester, NY, where Ms. Anthony lived from 1866 until her death in 1906. It was designed by Laura Wilder, an award-winning local artist, who also collaborated on the design of the calendar.
"This year's calendar honors Susan B. Anthony, a legendary American civil rights leader, who served as president of the National American Woman Suffrage Association from her home in Rochester, NY," said Dennis Bacchetta, director of marketing of Diamond Packaging. "We set out to create a colorful, beautifully-decorated structural and ornamental piece – one that people will want to use all year and keep long afterwards."
The calendars were converted utilizing Clearwater ReMagine™ 30% PCW paperboard, cold foiled, and offset printed with four color process and two PMS inks, in-line with UV matte, UV satin, UV gloss spot coating, and soft touch coating.
Tightly-registered UV coatings were used to enhance the design and highlight the individual calendar components. Matte UV coating was used on the house and background. High gloss UV spot coating brings out the reflection in the windows. Soft touch coating adds a tactile effect to the clouds. Satin UV spot coating enhanced the backers (monument, sign, wagon).
Cold foil delivers shimmering metallic effects on the Susan B. Anthony and Rochester, NY text in the header.
Multi-level embossing lends distinction and depth to the design. Many of the header components were embossed, including the house, cantilever windows, shutters, flag, posts, steps, front gate, trees, and text. Subtle debossing frames the entire header. Select backers components (including the Women's Rights Pioneers Monument of Sojourner Truth, Elizabeth Cady Stanton and Susan B. Anthony in Central Park, NY) were also embossed to add more depth and realism.
The calendar pages were converted utilizing French Paper Natural Parchtone 80# Text parchment paper and offset printed with four color process inks and aqueous coating. The watermarks continue the image printed on each of the three panels underneath. The unique finish and subtle colors beautifully complement the design and fit in with the time period of the subject.
The recyclable shipper was converted utilizing Clearwater Candesce® SBS paperboard laminated to E-flute corrugated fiberboard, and offset printed with four color process inks, in-line with and aqueous gloss coating. It is tastefully decorated with handwritten script as if Susan B. Anthony had picked up her quill pen and written her dream on parchment paper, over and over again.
The calendar header and backer components were converted utilizing Clearwater ReMagine™ paperboard made with 30% post-consumer recycled (PCR) fiber and manufactured using 100% clean, renewable wind energy in a Zero Waste to Landfill (ZWL) facility.
About Diamond Packaging
Founded in 1911, Diamond Packaging is a WBENC-certified woman-owned business specializing in developing innovative and sustainable packaging solutions. Utilizing state of-the-art technologies, Diamond designs and manufactures folding cartons for the personal care (cosmetics, hair care, skin care, fragrance, oral care, and shaving), health care, pharmaceutical, cannabis, and consumer electronics industries. Its client portfolio includes Bausch + Lomb, Coty, Charlotte's Web, Columbia Care, L'Oréal, Otter Products, Procter & Gamble, Revlon, Shiseido, and many other Fortune 500 companies. Diamond differentiates itself through award-winning creative design, packaging innovation/technical expertise, its greenbox sustainability initiative, and the Global Packaging Alliance® (GPA). For more information visit www.diamondpackaging.com, or follow Diamond on Facebook, Twitter, Instagram, and LinkedIn.
For more information on the 2021 calendar visit http://bit.ly/38loqhM.