Apr. 24, 2020
Diamond Packaging Donates 10,000 Face Shields to Healthcare Workers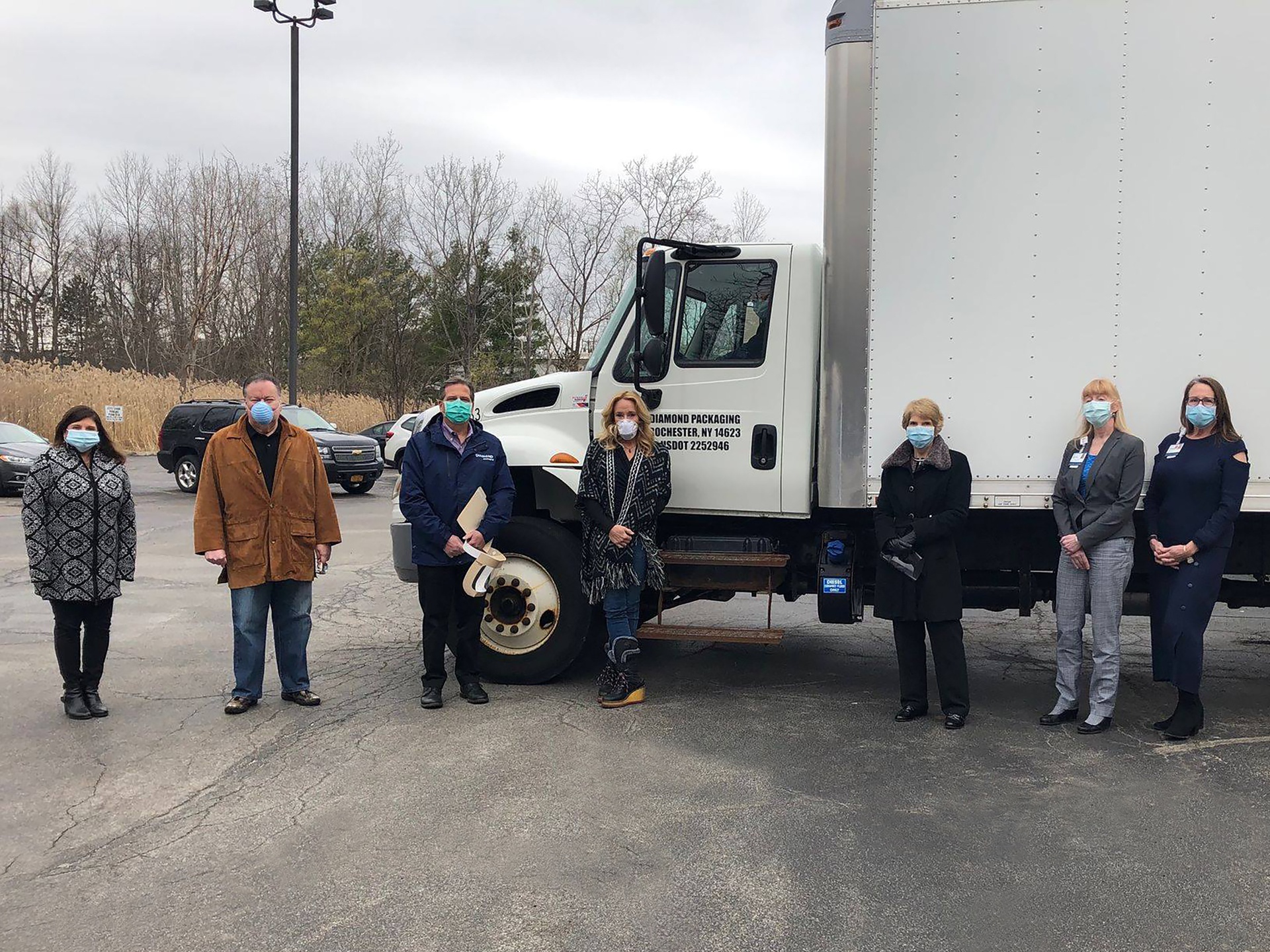 Press Release
---
Rochester, NY – Monroe County Legislature President Dr. Joe Carbone (Irondequoit) and County Legislator Karla F. Boyce (Henrietta, Mendon, Pittsford & Rush) joined Karla Fichter, CEO, and David Rydell, President, of Diamond Packaging, to donate 10,000 face shields to UR Medicine Home Care in Webster, NY. The face shields were designed, manufactured, and donated by Diamond Packaging.
"It's great to see local businesses stepping up to help others! We were honored to join leaders from Diamond Packaging and UR Medicine Home Care as 10,000 face shields were donated to healthcare heroes who are helping our community amidst the current COVID-19 pandemic," said County Legislators Karla Boyce and Dr. Joe Carbone.
"These masks protect the eyes, so when our staff go into patients' homes, they're fully protected," said Jane Shukitis, President and CEO of University of Rochester Medicine Home Care. "And they also wear a gown, they wear gloves, they wear covering on their feet, but this has been one of the products that has been really helpful."
"We saw an opportunity to help in this challenging time," said CEO and owner Karla Fichter. "We have the technical and design capabilities, resources, and material availability that a lot of companies just don't have right now. We've been working on designing, redesigning, and improving the face shields to come up with something that can truly benefit all of the brave people out there on the front lines every day and taking chances for themselves and their families."
Since the COVID-19 pandemic, Diamond has produced tens of thousands of masks for healthcare workers across the country while also supporting essential businesses, including pharmaceutical and health care companies.
About Diamond Packaging
Founded in 1911, Diamond Packaging is a WBENC-certified woman-owned business specializing in developing innovative and sustainable packaging solutions. Utilizing state of-the-art technologies, Diamond designs and manufactures paperboard and plastic folding cartons for the personal care (cosmetics, hair care, skin care, fragrance, oral care, and shaving), health care, pharmaceutical, cannabis, and consumer electronics industries. Its client portfolio includes Bausch + Lomb, Coty, L'Oréal, Ortho Clinical Diagnostics, Otter Products, Procter & Gamble, Revlon, Shiseido, Unither Pharmaceuticals, and many other Fortune 500 companies. Diamond differentiates itself through award-winning creative design, packaging innovation/technical expertise, its greenbox sustainability initiative, and the Global Packaging Alliance® (GPA). For more information visit www.diamondpackaging.com.