Oct. 18, 2016
Diamond Packaging Wins 2016 P&G External Business Partner Excellence in Sustainability Award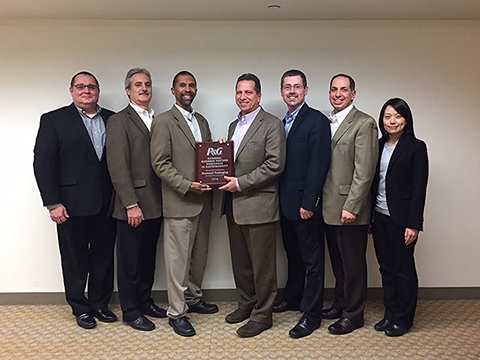 Rochester, NY – Diamond Packaging has been selected as a 2016 P&G External Business Partner Excellence in Sustainability Award winner – the ONLY packaging supplier worldwide to receive this distinction.
Diamond was recognized for consistently demonstrating a commitment to sustainability at high levels, including transparency in reporting measures, improvements, and sustainability initiatives and ideas.
Diamond has earned an Excellence Award seven times in the last eight years. Less than 0.1% of P&G's global suppliers receive recognition for consistent high performance.
Diamond provides superior packaging solutions for multiple P&G product lines, including its Gillette® division (blades, razors), Old Spice® and Secret® Clinical Strength antiperspirants and deodorants, Crest® Whitestrips®, Oral-B power toothbrushes, Pantene® hair care products, and Olay® skin care products. Diamond has also been instrumental in the success of several P&G product launches, including its Gillette® Fusion® ProGlide™ global launch.
Speaking at the event honoring those recognized as Partner of the Year, David Taylor, P&G's Chairman of the Board, President and Chief Executive Officer, asked P&G's external business partners to continue to strive for the best collaborative relationship with P&G, saying: "We're focused on getting back to balanced growth. Our supplier partners have a key role to play in our ability to deliver top-line, bottom-line and cash. The more integrated and connected P&G and our supplier partners are, the better able we are to be more innovative and productive in meeting consumers' needs and, as a result, deliver balanced and sustainable growth and value creation for our shareholders." He made several requests of those in attendance, including more business transparency with each other and helping P&G become faster in getting products to market.
Read the Procter & Gamble press release.
About Diamond Packaging
Founded in 1911, Diamond Packaging is a WBENC-certified woman-owned business specializing in developing innovative and sustainable packaging solutions. Utilizing state of-the-art technologies, Diamond designs and manufactures paperboard and plastic folding cartons, and provides contract packaging services for the personal care (cosmetics, hair care, skin care, fragrance, oral care, and shaving), health care, pharmaceutical, nutraceutical, and food and confectionery industries. Its client portfolio includes Bausch & Lomb, Beiersdorf, Coty, Elizabeth Arden, Estée Lauder, Godiva Chocolatier, L'Oreal, Procter & Gamble, and Shiseido. As part of the Global Packaging Alliance® (GPA), Diamond and its alliance members offer packaging solutions to companies operating on an international scale. Customers receive responsive, localized service, award-winning creative designs, identical product specifications and consistent brand recognition, resulting in unparalleled worldwide packaging support. For more information about Diamond Packaging, visit www.diamondpackaging.com.
Media Contact
Dennis Bacchetta
Director of Marketing
dbacchetta@diamondpkg.com
(585) 334-8030 x229